Sugarloaf mountain is one of the most beautiful attractions in Rio de Janeiro, one of the most famous in Brazil, a top South American landmark, known worldwide. Inaugurated more than 110 years ago, the Sugarloaf Cable Car was the first cable car in Brazil and third in the world.
The Sugarloaf tourist complex is actually formed by two small mountains, interconnected by two stretches of the cable car. The first station is the top of the Urca Mountain/Morro da Urca, where there are restaurants, souvenir shops and an amphitheater. The second stop is, of course, the top of the Sugarloaf/Pão de Açucar where you can view Rio's most iconic attractions:   the amazing Christ the Redeemer, Botafogo Bay, the city of Niterói and stunning Copacabana beach. Visiting this 600-million-year-old attraction is definitely on the discerning traveller's bucket list!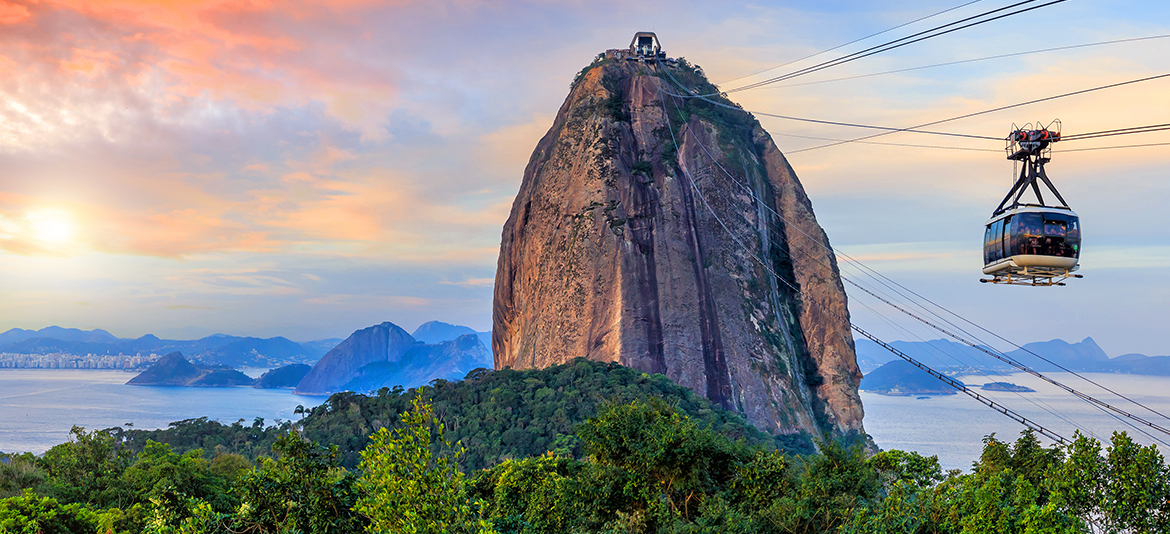 The best known and most popular way of ascending the twin peaks of the Sugarloaf is to take the two-station cable car at the Praia Vermelha ground station in the lovely residential beach district of Urca. For the adventurous, you can opt for a mix of hiking and cable car, hiking  up to the first stop, Morro da Urca and then taking the cable car all  the way to the top of Pão de Açúcar. The hiking trail is wonderful to experience,  surrounded by the tropical vegetation of the Atlantic Forest with a plethora of butterflies, tropical birds, monkeys, lizards.  For those seeking a more challenging activity, climb the whole way up on foot, preferably aided by an English-speaking local guide with all the necessary equipment. If you're relatively fit and healthy,  you should embark on this unique Rio adventure!
Different stories explain  the origin of the name. The most popular confirms that during the 16th and 18th centuries, at the height of sugarcane production in Brazil, sugar blocks were stored in forms to be exported, in shape similar to Sugarloaf mountain and so this name arose.
For more information visit: https://www.bondinho.com.br
If you are interested in organizing a tour to visit this spectacular and unmissable attraction in the city, do not hesitate to contact us. In addition, Latin Exclusive offers other incredible activities and vacation home rentals in cities near Rio de Janeiro such as Itaipava and Petrópolis.