Rio's second-biggest party – only slightly trailing Carnival – is New Year's Eve, also locally called "Reveillon", along Copacabana Beach.
There is no cost to the beach celebration, and more than 2.5 million tourists and Cariocas come every year to the legendary beach to celebrate the changing of the year, and take part in one of the world's biggest and best parties. Partiers start to arrive on Copacabana Beach early in the day, to set up their stay for the rest of the day and night. By the time evening arrives, the beach is pulsating with people waiting to ring in the new year, and by midnight, close to 3 million people are on the beach, ringing in the new year.  
The countdown
There are dozens and dozens of restaurants very close to Copacabana Beach – whether they are in Copacabana itself, or the neighboring areas of Ipanema or Leblon. Many of the local restaurants will offer an exclusive "prix fixe" menu, and if they are beachfront restaurants as well, they can include tickets to stay on the terrace and enjoy the New Year's celebrations from your table or their bar. The beachfront avenue – called Avenida Atlantica – is also closed to traffic during the celebrations, so you're able to really pick and choose what works best for your tastes – the beach, the Avenida, or the sanctuary of an oceanside restaurant or bar. The party in Copacabana is something that all Cariocas have experienced, and celebrate with their entire families young and old, so you can expect to see all ages of people and walks of life – from the wealthy to the poor; families with seniors, kids, and babies; teenagers and young adults; transvestites, gay and lesbian; foreigners and Brazilians.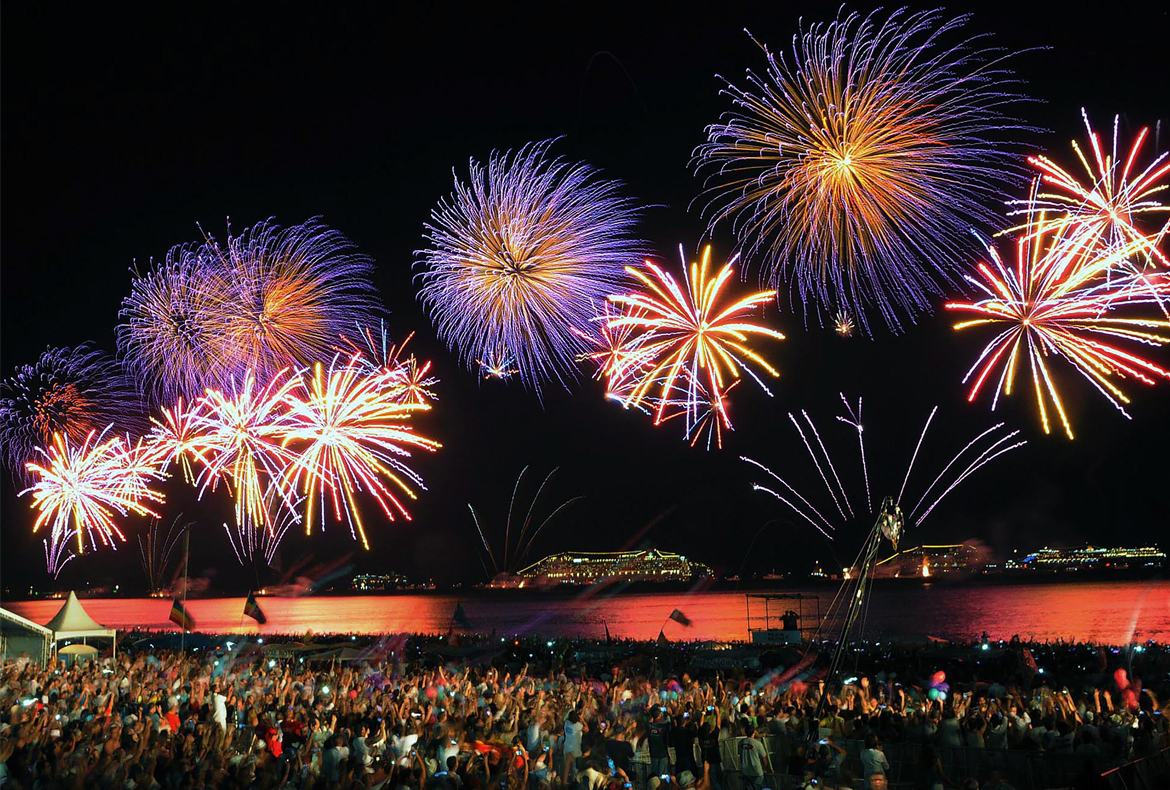 Music & Fireworks
As night begins to fall, around 8 pm, the live music that is set up on the beach starts to play. Because Copacabana Beach is a massive area, there are several stages set up along the length of the beach, which features live musical acts performing favorites such as the famous Brazilian samba, Brazilian pop music, and in some cases, even international rock and pop stars.  It's a very relaxed atmosphere as you sit and wait for midnight to arrive – with friends and small crowds listening to music, barbecuing, swimming, and playing football.
Fireworks begin naturally right at midnight, which is set off from the boats and barges that are anchored in the Copacabana harbor. They last for about 20 minutes, and are a great spectacle themselves, as the organizers seem to outdo themselves every year. At the end of Copacabana Beach, at the "Forte de Copacabana", there is a giant Ferris wheel that is set up for New Years' as well, which is a great way to view the mayhem and throngs of people lined up all along the beach. One of the great scenes of New Years in Rio de Janeiro is seeing all the majestic cruise ships that come into the harbor and spend the night celebrating the incoming year as well, just from the comfort of their ship, rather than being part of the actual party on the sand. The sight of the lit-up cruise ships sitting in the harbor looks like clusters of diamonds sitting in the sea and is a very iconic memory of your Rio New Year's.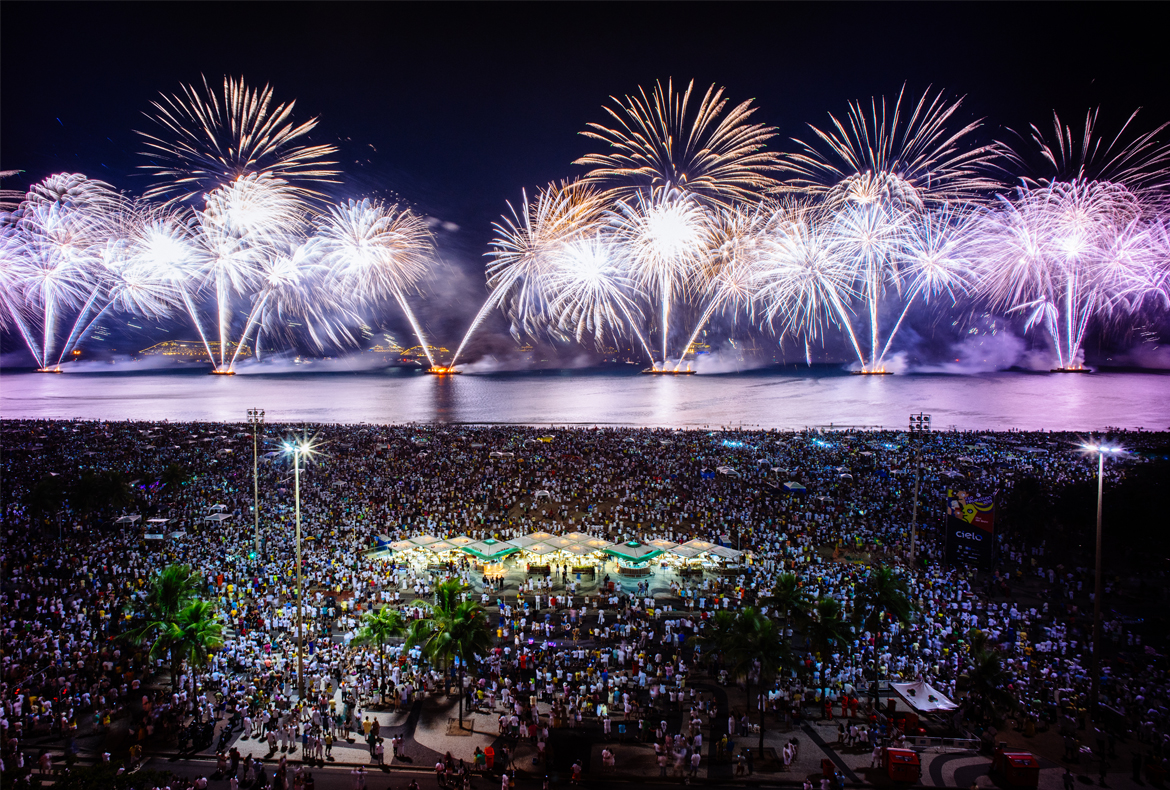 As for what to drink to ring in the New Year, Champagne is the drink of choice. People bring their own bottles along to the beach, pop it open at midnight, and as is tradition, tend to spray the crowd with the drink more than drink it themselves. In Brazil, the revellers actually appreciate getting doused with the bubbly, as this is seen as good luck for the upcoming year.
Brazilian New Year's Traditions
Almost all Brazilians will celebrate New Year's night dressed in white from head to toe, as this too is seen as good luck for the next year. Sometimes, some people will add a piece of color to their outfit – whether it's a belt, a flower in their hair, or a hat, as these highlights of colors are considered to bring blessings in different aspects of your life – red for romance, green for health, and yellow for success, for example. This white that you'll see everyone wearing is a Bahian tradition (a nearby state in Brazil) that pays tribute to the Afro-Brazilian, or macumba, sea goddess Lemanjá. It's due to this same tradition and homage, that many Brazilians will bring flowers to the sea, and toss them into the ocean, sometimes along with soaps and make-up such as lipstick. These offerings to Lemanjáare done to acknowledge a wish that was granted the previous year or to show gratitude for a blessing bestowed upon the reveler. Traditionally this is to be offered into the sea just a few minutes before midnight, and with luck, the tide will receive their gifts and carry them to the embrace of Lemanjá.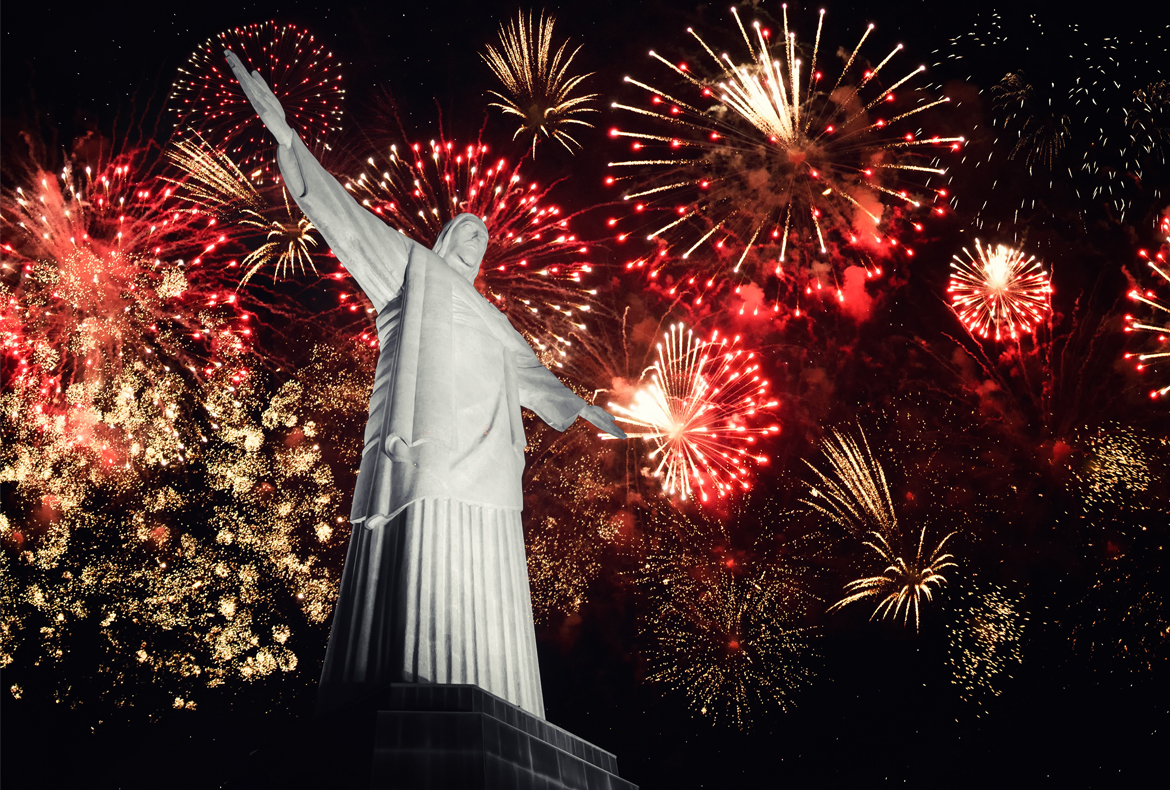 After the fireworks
Once the fireworks and music are over, this doesn't mean the party has ended. This is Copacabana after all. The best options are to either enjoy the street life and energy that continues right along with Avenida Atlantica, or have entry to a nearby club pre-arranged. There are many nightclubs and bars in Copacabana and the neighboring streets which you can enjoy, or you can allow us at Latin Exclusive to have organized for your entry to a club in Leblon, Gavea, or Barra. Some local clubs in and around Copacabana, will allow entry before the fireworks, give you a wristband to exit to enjoy the beach fireworks, and then return back to the club after the countdown. Many of these clubs and parties will serve a buffet breakfast – including a glass of champagne of course – so that you don't lay your head down until after the sun rises on the first day of the new year.  
Alternatives to the beach party
If you're one who prefers not to celebrate on the sand with the hundreds of thousands of fellow partiers, then Latin Exclusive has other options we can arrange for you. There are numerous clubs in non-seaside neighborhoods, where you can party the night away, and celebrate with bottle service in VIP club style, which we can arrange for you. If you are coming to Rio and wish to host a beachfront or penthouse event, please speak with us directly, as we can help arrange, depending upon the property and the event specifics. Any event, such as a New Year's Eve celebration, in one of our properties, needs our written authorization to host such a gathering, and we will do our utmost to make sure your own private party is a New Year's party to remember. If your style is more nautical and seafaring, we can even arrange private yachts to host your private celebrations, anchored in the harbor along with the cruise ship and fireworks barges, complete with your own staff and captain.